The facility and our capabilities
Please note: The Big Booth is a We-Blast service and requires the use of one of our trained operators.
We set up a 20′ x 35′ enclosure with a large 15′ wide and 12′ tall  opening. We can accommodate car and light truck bodies, frames,  boat and utility trailers up to 20′ in length. We can also clean hulls on boats up to about 20′ in length.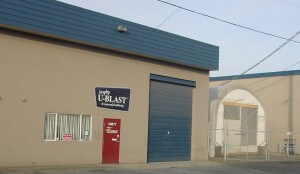 We have a 3 ton forklift and a 1/2 ton A-frame crane to assist in loading and unloading your project.
Please contact the shop if you require the use of a rotisserie for autobody blasting.
We cannot do large transport trailers, dump trailers, dump trucks or large industrial equipment. Please contact the shop and we can refer you to several companies in the area that can handle really large projects.
 The Blaster
An MMLJ DB500 with a 100kg media capacity that allows up to 1 hour of continuous operation.  This is the same machine that can be seen on several TV shows, including Overhaulin' and My Classic Car.  We've hooked it up to a 185 CFM diesel compressor, so air delivery is not a problem! The blaster also has adjustable air pressure. so we can dial it down for more delicate projects. You can read more about the machine HERE.
The Media
Based on the manufacturer's recommendation and in conversation with several other blasting companies in the Lower Mainland, we've settled on crushed recycled glass in fine, medium and coarse mesh sizes. It is exactly the same media that we run in the cabinets and it does an excellent job. The fine mesh leaves a very smooth surface and is perfect for car bodies, motorcycle frames or surfaces that require a fine etch. The medium mesh is great for removing rust and old paint from large suspension pieces, auto frames, boat and utility trailers and the like. The coarse mesh works really well at removing heavy mill scale, epoxy coatings, powder coatings and other difficult coatings.  We can even do a first pass with the medium or coarse and finish with the fine, to get the surface preparation that you require.
Dry or Wet
The unique aspect of the DB500 is its' ability to run dry or wet. In wet mode, we'll add water to the mix to create a slurry. In certain situations, a slurry has several advantages. The water increases the impact of the media, providing a more aggressive clean. The water also cools the surface being cleaned reducing the possibility of warping. This is especially important when cleaning car body exteriors with lots of paint and body filler. To reduce the possibility of flash rusting, we can add a flash rust inhibitor to the slurry. We've chosen HoldTight102, as it does not leave a coating or residue on the clean metal and is accepted by many paint and coating manufacturers. Read about it HERE.
We'll be happy to consult with you on your particular project and make recommendations on wet/dry and mesh size.
Rates
$185.00 per hour. There's a 30 minute minimum and we charge in 10 minute increments.
HoldTight102 , if required, costs an additional $25.00 per blaster fill.
Booking
We'll be pleased to book you an appointment to have your project blasted in our Big Booth. Call or email the office to get the process started. Our contact information is on the CONTACT page.